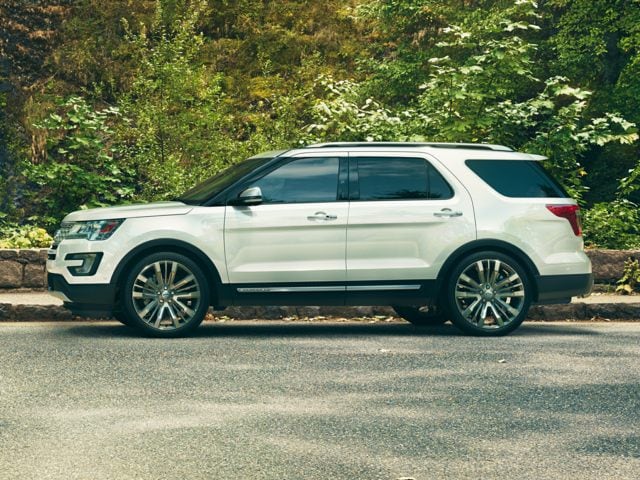 About the 2017 Ford Explorer in the Lubbock, Lamesa, Midland, and Odessa Area
When it comes to shopping for a new SUV for your growing brood, the 2017 Ford Explorer makes for a great choice. As spacious as it is sophisticated, this year's new Ford Explorer is one that aims to please in more ways than one. Fortunately, for Lamesa, Midland and Odessa area drivers, our showroom is currently featuring a comprehensive selection of new Ford Explorer models so that you can choose the best one for you and your brood.
If you're ready to check out the 2017 Ford Explorer for yourself, we invite you to stop by our showroom today. Conveniently located in Lamesa, TX and just a short distance away from Lubbock, Midland and Odessa, we look forward to welcoming you and your family in to our new Ford dealership soon.
More About the Ford Explorer
Available in Explorer, XLT, Limited, Sport and Platinum trim levels, there's a new Ford Explorer for every taste and automotive need. Whether you're looking to tow, haul or simply impress in the carpool lane, you can rely on this year's Ford Explorer to do so with absolute ease. Of course, with standard features such as a first-row center floor console with wrapped armrest and storage bin, overhead console with dome/map lights and sunglasses holder, a third-row of seating and the Ford SYNC infotainment system, it's hard not to be pleased by this family-oriented SUV.
Leasing and Financing Options that Won't Break the Bank
For many of our Midland, Odessa and Lamesa area customers, shopping for a new car can seem like an intimidating task. With many cars boasting quite unreasonable price tags, it's easy to feel as if you'll have to fork over your entire life savings when shopping for a new car. Fortunately, when you choose to shop with our team, you won't ever have to feel that way. With an array of financing and leasing options available to our customers, you can shop with confidence knowing that our team is committed to ensuring that the car of your choosing is well within your budget.
Ford Explorer Trim Options
You've taken the time to consider what you need in a vehicle, what kind of space makes the most sense for your lifestyle, and what performance specs you want, so now is the time to get really specific. Now that you have decided on taking home the Ford Explorer, you need to pick what level of technology and performance you want to enjoy for years to come. On this page we've broken down the different trim levels so you can see what each offers. Aside from these trim levels, you can also opt for front-wheel drive and four-wheel drive to add to your excitement.
Base Trim
This base level trim offers a 3.6-liter V6 engine that throws down 290 horsepower and 255 pound-feet of torque.
This level is moderately priced around $31,000 to give you an introduction to the model so you can opt for an upgraded trim later on if you choose.
Keyless start is great for the driver who has more to think about than reaching into your pockets for keys, which is why the Explorer has this available at its base level.
Integrate your smart device in this trim, which Ford thinks is something every driver needs.
Also available is the backup camera and Bluetooth connection
XLT
This is the first trim level that offers satellite radio as a standard feature, and for only a couple thousand more, it could be well worth the investment if you enjoy having complete control over your music and talk radio.
This is also the first trim where heated mirrors, navigation system, and multi-zone air conditioning becomes available.
Power liftgate becomes available on this trim level, giving you one less thing to worry about.
Also convenient is the remote engine start, which becomes available on this trim level.
Power folding mirrors get you in and out of tight spaces, and luckily, this trim has them.
Limited
At about $10,000 over base price, this trim level can offer rain-sensing wipers, premium sound system, and mirror memory function.
For the driver on the go, this trim also offers a universal garage door opener so you don't need to worry about hopping in and out of your vehicle to open and close the garage door.
Adaptive Cruise Control is now available to the driver who wants that added security.
Sport
Unlike the previous trims, this one is only offered with 4WD.
Rear-parking aid is a great feature that becomes available on this trim.
Adaptive Cruise Control is available on this trim, as well as
Platinum
This is another trim that is only available in 4WD, not that that is a bad thing.
Rain-sensing wipers are also available on this trim level, but not on the Sport trim.
Automatic Parking becomes available which is a breath of fresh air to the driver who despises parallel parking.
Call us or stop by for more information or for a test drive.